Treatment
Treatment options for adolescents with depression include supportive care from a medical provider, talk therapy, and possibly antidepressant medications. It is important that treatment be tailored to the adolescent and the severity of his or her symptoms. Families often participate in the treatment of adolescent depression.
MEDICATION
The first medication tried is usually a type of antidepressant called selective serotonin reuptake inhibitors (SSRI). Fluoxetine (Prozac) and escitalopram (Lexapro) are the only ones FDA-approved for treating major depression in adolescents (ages 12 – 17). Fluoxetine is also approved for children age 8 and older.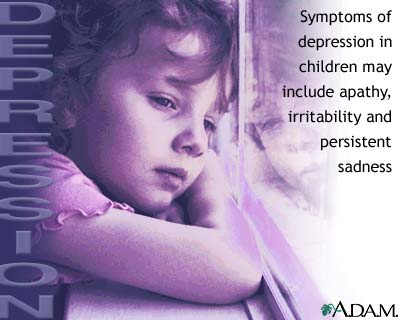 NOTE: SSRIs and other antidepressants carry a warning that they may increase the risk of suicidal thoughts and actions in children and adolescents. Other evidence about these drugs has not showed that antidepressants increase suicide risk in children.
Doctors are still prescribing SSRIs and other antidepressant medications to adolescents with depression. Several important facts about taking any antidepressants include:
* Children and adolescents who take medications should be followed by a doctor for side effects. Parents or caregivers should promptly seek medical advice if they notice suicidal thoughts or behaviors, nervousness, agitation, irritability, moodiness, or sleeplessness that is getting worse.
* Do not abruptly stop taking these medications. This may cause symptoms to return. Families should talk with their doctor before stopping medications.
Not all antidepressants are approved for use in children and teens. For example, tricyclics are not approved for use in teens.
TALK THERAPY
Almost all adolescents with depression benefit from some type of talk therapy. They should understand that talk therapy is a good place to talk about their feelings and concerns, and most importantly, to learn ways to deal with them.
Types of talk therapy include:
* Cognitive-behavioral therapy teaches depressed people ways of fighting negative thoughts. An adolescent with depression can learn to be more aware of his or her symptoms, detect what seems to make depression worse, and learn problem-solving skills.
* Family therapy may be helpful if family conflict is contributing to the depression. Support from family or teachers may also be needed to help with school problems.
* Psychotherapy can help adolescents understand issues that may be causing their behavior, thoughts, or feelings.
* Joining a support group of people who are experiencing problems like yours can also help. Ask your therapist or doctor for recommendations.
Occasionally, people with severe depression, or those who are suicide risks may need to be hospitalized in a psychiatric unit.
Important knowledge, skills, and lifestyle changes for adolescents to learn include:
* Take medications correctly and learn how to manage their side effects.
* Learn to watch for early signs that depression is getting worse, and know how to react when it happens.
* Try to exercise more and seek out other activities that you enjoy.
* Avoid alcohol, narcotics (whether or not they have been prescribed), and other illegal drugs. Understand that these substances affect the brain and make the depression worse over time, and they may also impair your judgement about suicide.
* When you are struggling, talk to someone you trust about how you are feeling. Try to be around people who are caring and positive.
See also: Electroconvulsive therapy
Prognosis (Expectations)
Depressive episodes usually respond to treatment. Early and appropriate treatment of depression in adolescence may prevent further episodes. However, about half of seriously depressed teens are likely to have continued problems with depression as adults.
Complications
* Drug, alcohol, and tobacco abuse
* Effects on school performance and interpersonal relationships
* Other psychiatric problems, such as anxiety disorders
* Teenage suicide
* Violence and reckless behavior
Adolescents with additional psychiatric problems usually require longer and more intensive treatment.
Calling Your Health Care Provider
There are numbers you can call from anywhere in the United States, 24 hours a day, 7 days a week: 1-800-SUICIDE or 1-800-999-9999.
Call your health care provider right away if you notice one or more of these suicide warning signs:
* Giving most cherished possessions to others
* Personality change
* Risk taking behavior
* Threat of suicide or plans to hurt yourself
* Withdrawal, urge to be alone, isolation
See: Suicide and suicidal behavior for more information
Call your health care provider if you notice:
* Depression that is not improving or is gradually getting worse
* Nervousness, agitation, irritability, moodiness, or sleeplessness that is new or getting worse
* Side effects of medications
NEVER IGNORE A SUICIDE THREAT OR ATTEMPT!
---
Review Date : 2/14/2010
Reviewed By : Fred K. Berger, MD, Addiction and Forensic Psychiatrist, Scripps Memorial Hospital, La Jolla, California. Also reviewed by David Zieve, MD, MHA, Medical Director, A.D.A.M., Inc.
The information provided herein should not be used during any medical emergency or for the diagnosis or treatment of any medical condition. A licensed medical professional should be consulted for diagnosis and treatment of any and all medical conditions. Call 911 for all medical emergencies. Links to other sites are provided for information only — they do not constitute endorsements of those other sites. © 1997- 2010 A.D.A.M., Inc. Any duplication or distribution of the information contained herein is strictly prohibited.