Treatment
Treatment is not necessary unless the symptoms are bothersome. Most women seek treatment by the time the uterus drops to the opening of the vagina.
Uterine prolapse can be treated with a vaginal pessary or surgery.
VAGINAL PESSARY
A vaginal pessary is a rubber or plastic donut-shaped device that is inserted into the vagina to hold the uterus in place. It may be a temporary or permanent form of treatment. Vaginal pessaries are fitted for each individual woman. Some pessaries are similar to a diaphragm device used for birth control. Many women can be taught how to insert, clean, and remove the pessary herself.
Pessaries may cause an irritating and abnormal smelling discharge, and they require periodic cleaning, sometimes done by the doctor or nurse. In some women, the pessary may rub on and irritate the vaginal wall ( mucosa), and in some cases may damage the vagina. Some pessaries may interfere with normal sexual intercourse by limiting the depth of penetration.
LIFESTYLE CHANGES
Weight loss is recommended in women with uterine prolapse who are obese.
Heavy lifting or straining should be avoided, because they can worsen symptoms.
Coughing can also make symptoms worse. Measures to treat and prevent chronic cough should be tried. If the cough is due to smoking, smoking cessation techniques are recommended.
SURGERY
Surgery should not be done until the prolapse symptoms are worse than the risks of having surgery. The specific type of surgery depends on:
Degree of prolapse
Desire for future pregnancies
Other medical conditions
The women's desire to retain vaginal function
The woman's age and general health
There are some surgical procedures that can be done without removing the uterus, such as a sacrospinous fixation . This procedure involves using nearby ligaments to support the uterus. Other procedures are available.
Often, a vaginal hysterectomy is used to correct uterine prolapse. Any sagging of the vaginal walls, urethra, bladder, or rectum can be surgically corrected at the same time.
Prognosis (Expectations)
Most women with mild uterine prolapse do not have bothersome symptoms and don't need treatment.
Vaginal pessaries can be effective for many women with uterine prolapse.
Surgery usually provides excellent results, however, some women may require treatment again in the future.
Complications
Ulceration and infection of the cervix and vaginal walls may occur in severe cases of uterine prolapse.
Urinary tract infections and other urinary symptoms may occur because of a cystocele. Constipation and hemorrhoids may occur because of a rectocele.
Calling Your Health Care Provider
Call for an appointment with your health care provider if you have symptoms of uterine prolapse.
Pictures & Images
Female reproductive anatomy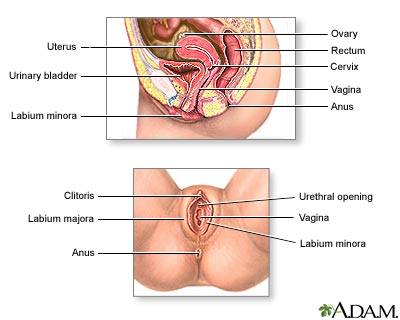 External structures of the female reproductive anatomy include the labium minora and majora, the vagina and the clitoris. Internal structures include the uterus, ovaries and cervix.
---
Review Date : 5/12/2008
Reviewed By : Linda J. Vorvick, MD, Medical Director, MEDEX Northwest Division of Physician Assistant Studies, University of Washington, School of Medicine; Susan Storck, MD, FACOG, Chief, Eastside Department of Obstetrics and Gynecology, Group Health Cooperative of Puget Sound, Redmond, Washington; Clinical Teaching Faculty, Department of Obstetrics and Gynecology, University of Washington School of Medicine. Also reviewed by David Zieve, MD, MHA, Medical Director, A.D.A.M., Inc.
The information provided herein should not be used during any medical emergency or for the diagnosis or treatment of any medical condition. A licensed medical professional should be consulted for diagnosis and treatment of any and all medical conditions. Call 911 for all medical emergencies. Links to other sites are provided for information only — they do not constitute endorsements of those other sites. © 1997- 2010 A.D.A.M., Inc. Any duplication or distribution of the information contained herein is strictly prohibited.