Treatment
Iritis is usually mild. Treatment may involve:
Dark glasses
Eye drops that dilate the pupil to relieve pain
Steroid eye drops or ointment
Pars planitis is often treated with steroid eye drops. Other medicines, including steroids taken by mouth, may be prescribed to help suppress the immune system.
Choroiditis treatment depends on the underlying cause. Additional specialists in infectious disease or autoimmunity may be needed for such diseases as syphilis, tuberculosis, AIDS, sarcoidosis, or Behcet's syndrome.
If the uveitis is caused by a body-wide infection, treatment may involve antibiotics and powerful anti-inflammatory medicines called corticosteroids. See autoimmune disorders for information on treating such diseases.
Prognosis (Expectations)
With proper treatment, most attacks of anterior uveitis go away in a few days to weeks. However, relapses are common.
Inflammation related to posterior uveitis may last from months to years and may cause permanent vision damage, even with treatment.
Complications
Cataracts
Fluid within the retina
Glaucoma
Retinal detachment
Vision loss
Calling Your Health Care Provider
Call for an appointment with your health care provider if you have symptoms of uveitis. Eye pain or reduced vision are urgent symptoms that require prompt medical attention.
Pictures & Images
Eye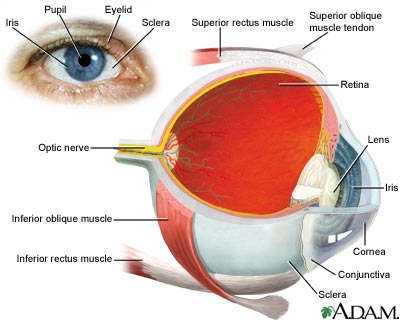 The eye is the organ of sight, a nearly spherical hollow globe filled with fluids (humors). The outer layer or tunic (sclera, or white, and cornea) is fibrous and protective. The middle tunic layer (choroid, ciliary body and the iris) is vascular. The innermost layer (the retina) is nervous or sensory. The fluids in the eye are divided by the lens into the vitreous humor (behind the lens) and the aqueous humor (in front of the lens). The lens itself is flexible and suspended by ligaments which allow it to change shape to focus light on the retina, which is composed of sensory neurons.
---
Review Date : 7/28/2008
Reviewed By : Manju Subramanian, MD, Assistant Professor in Ophthalmology, Vitreoretinal Disease and Surgery, Boston University Eye Associates, Boston, MA. Review provided by VeriMed Healthcare Network. Also reviewed by David Zieve, MD, MHA, Medical Director, A.D.A.M., Inc.
The information provided herein should not be used during any medical emergency or for the diagnosis or treatment of any medical condition. A licensed medical professional should be consulted for diagnosis and treatment of any and all medical conditions. Call 911 for all medical emergencies. Links to other sites are provided for information only — they do not constitute endorsements of those other sites. © 1997- 2010 A.D.A.M., Inc. Any duplication or distribution of the information contained herein is strictly prohibited.